I made some R&D on how to add vfx to a footage from a Gopro camera. I have the Gopro HD2, I have to say its very good in video for the size of it. I use a lot for canyoning and climbing filming and tryed to do some integration with it.
The big characteristic of the gopro camera is his eye-fish output, with a lot of distortion to your videos. So it becomes a problem to integrate a cg image into it if you want to do it directly and if you want to solve your 3d camera. The solution I found is to first open your HD video into aftereffects, apply an Optics Compensation effect with negative value until you find your vertical and horizontal lines in the video are straight (more or less, since its dificult to do it 100% right). Change the settings of your project until all your footage fits on your composition and render a sequence of that corrected video.
Will look like this:
Original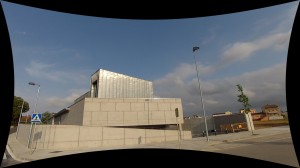 Corrected
We can import this in boujou, nuke, sintheyes or any program capable of 3d tracking and create your camera from here. (I found that will be better to stabilize first my footage, since Gopro camera is very little, filming with it subjecting on hands will produce very shaky fottage).
Make the effects in your favourite 3d application (in my video its an effect done with my Blackbox Tool) and make the composition with after with your corrected footage as background.
When the composition its done apply to all the video (background and your vfx) the Optics compensation with negative value. Since you are applying it to background and vfx your background will have the original deformation, and your cg effects will have the same deformation and will integrate well.